Talk: Introducing Kanthaus
Two shabby buildings in a German town you've probably never heard of before have become home for a group of post-waste activists: we call it Kanthaus.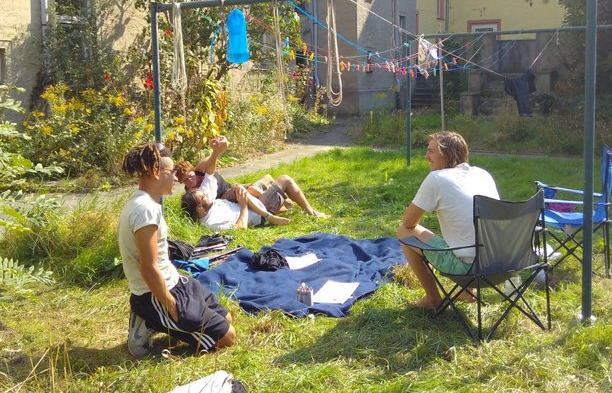 Located within the mesh of global challenges is the fact that 1/3 of edible food isn't eaten. The issue of waste is a focal point for our project, inherited from our involvement with yunity.org and foodsharing.de. We believe that waste can be avoided, and relationsips built, through sharing. Kanthaus is a platform for people to promote sharing and/or reduce waste.
I fell into this project early on and I'll present about the history, the first 6 months and future plans—
on Friday 15th December, 17:30 as a standalone event at The Shrub, 13 Guthrie Street, Edinburgh EH1 1JG. This will be an interactive ~45 minute presentation with time for further discussion afterwards. Add it to your Google calendar, any other calendar or via Facebook.
on Sunday 17th December as part of the Lightening Lectures event at Glasgow Autonomous Space, 53 Kilbirnie St, Glasgow, G5 8JD, UK. This will be a ~5 minute lecture will a ~5 minute discussion immediately afterwards. This event starts with food at 17:00 and with lectures starting at 19:00. Original event posted on Facebook, add it to your Google calendar or any other calendar.
Hope to see you there!